Omega Men for Homeless Men (OMFHM) is a social action program created in 2010 by Alpha Omega Chapter of the Omega Psi Phi Fraternity, Inc. The program features monthly discussions between members of the fraternity and homeless men in the community about overcoming life's challenges. In addition, during the NFL football season, OMFHM volunteers host the homeless for every Washington NFL team 1:00 p.m. Sunday football game for food and fellowship, with the ultimate goal of providing program participants, if only monthly, with a reliable sense of normalcy.
During the first Monday sessions, volunteers meet with program participants to provide a nutritious meal, clothing, toiletry and hygiene items, physical and mental health resources, and discussion with Omega men about different topics related to coping with and overcoming the realities of homelessness.
Through strategic collaboration with MedStar Family Choice and the D.C. Department of Health Services, OMFHM is able to provide useful physical and mental health resources, including cancer screenings, diabetes management supplies, depression management and treatments resources, and substance abuse resources.
Volunteers are always welcome. The first Monday sessions are held on the first Monday of each month at the Father McKenna Center, 900 North Capitol Street, NW, Washington, DC, in the basement of St. Aloysius Church at Gonzaga College High School. Sessions begin at 11:00 a.m.
Omega Men for Homeless Men in the News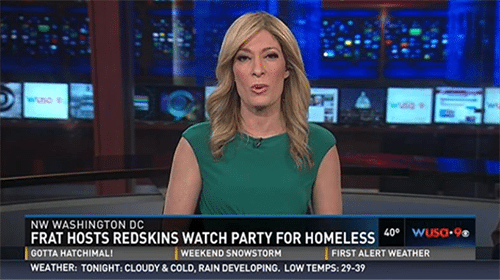 Click here to see additional coverage of our program on the DC50 web site.
Football fellowship sessions are posted on the fraternity calendar, accessed by clicking on the calendar link at the top of the page.